Does Eye Canvas have a physical store?
Yes, we have a physical store, however we have restricted visits to our in-store location to appointments only. To book an in-store visit please click here. Try our try me feature which allows you to try our frames from the comfort of your home and make your purchase a true online experience.
In-store visits
All customers must make and appointment to visit our physical store. We have taken the decision to restricted the number of customers at a time while in store to provide a personalised service. Upon entering you will be required to sanitise. Visits are restricted to 30 minutes per customer.
How to order prescription frames
A current prescription (not older than 6 months) that includes the doctor's information, date of service and signature of the doctor is required to process your order. On the frames that you want to purchase select order prescription lens to place your order for your lens. Select add frames to cart to purchase your frames online or book an appointment to try your frames. We accept PDF, JPG, or PNG files for our uploads
How to buy frames
Your can either:
Order and pay for your frames via our website or
Visit our store (by appointment only) to purchase
Online orders
All online orders must be picked up in-store since we are not offering deliveries at this time. Please make sure that you book an appointment for your in-store pick up. To book an in-store pick up please click here.
Do you accept deposits?
We currently only accept deposits on the purchase of prescription lens. All frames must be paid in full at the time of purchase.
A deposit must be made to facilitate the processing of your order with the balance due at the time of collection for your prescription glasses.
Deliveries
At this time we do not offer a delivery service. Please make sure that you book an appointment for an in-store pick up. To book an in-store pick up please click here.
The delivery charge of Bds$15 is non-refundable for all deliveries.
How does Eye Canvas sanitise its prescription frames?
We are using an anti-bacterial solution to clean each pair of frames after a customer tries on a pair of frames.
Hours of operation
Monday – Friday: 9:00a.m – 5:00p.m
Saturday: 9:00a.m – 3:00p.m
What payment methods does Eye Canvas Eyewear accept?
We accept cash, credit car and visa/debit payments or online purchases via PayPal.
Returns
If you are not satisfied with your purchase, you can easily return or exchange them within 7 days of receiving your item. All returns must be unworn, in the state you received them, and in the original packaging. Please contact info@shopeyecanvas.com for additional assistance.
How to measure your face for your frames
Shopping online for a pair of glasses might be a bit unnerving but there isn't much to it. You just need to be familiar with the measurements of the frames you are choosing so you can pick the best fit. These measurements include bridge width, lens diameter, lens height, and arm temple length.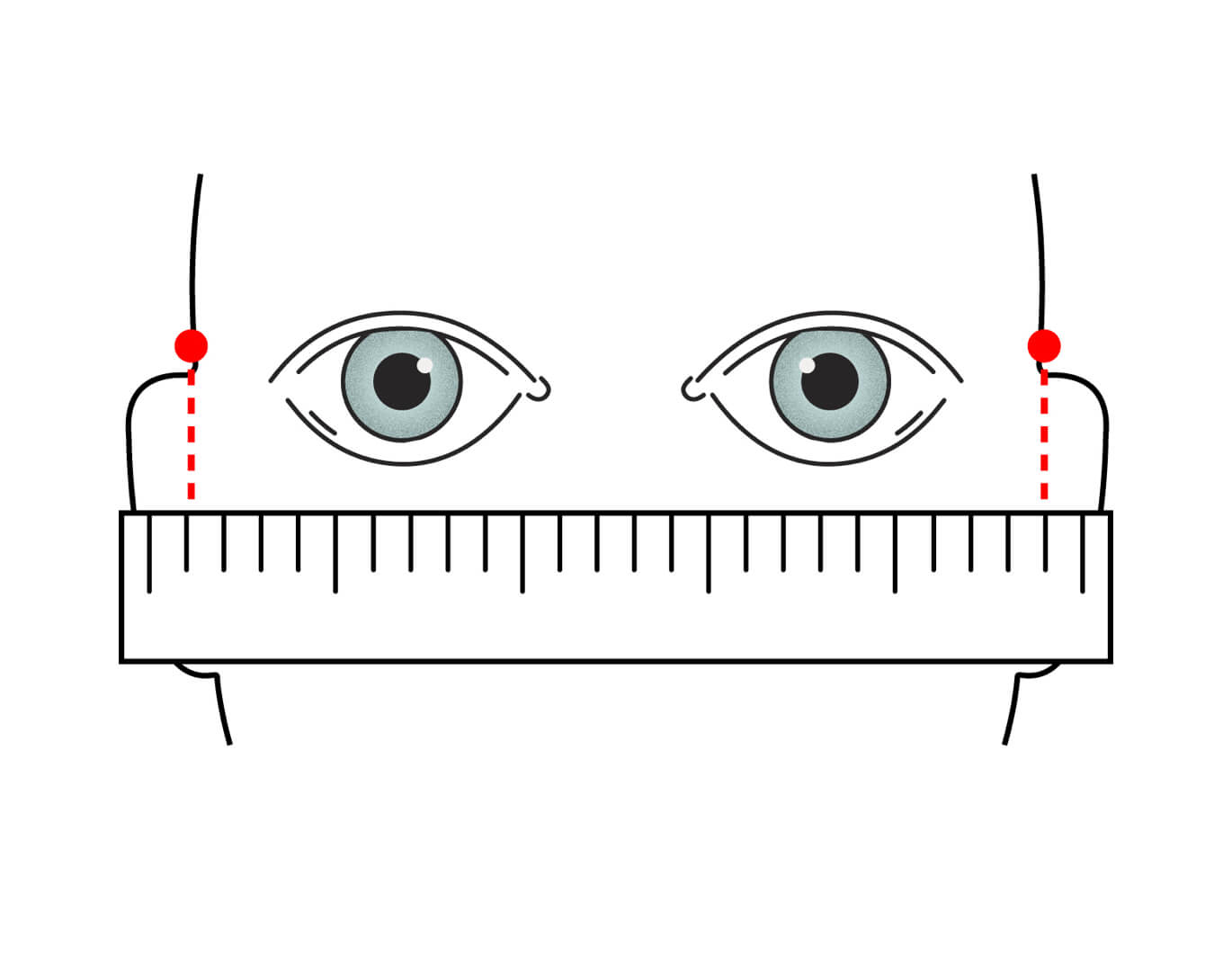 To take your measurements:
Stand in front of a mirror and hold the ruler in line with your temple
Measure the distance between your temples in inches (multiply your measured value by 25.4 to convert from inches to millimetres)
Now that you have measured your face, calculate the total frame width of the glasses you want. This would be a sum of both the lenses width, plus the bridge width. Your frame size can vary by +/- 3mm from your measurement.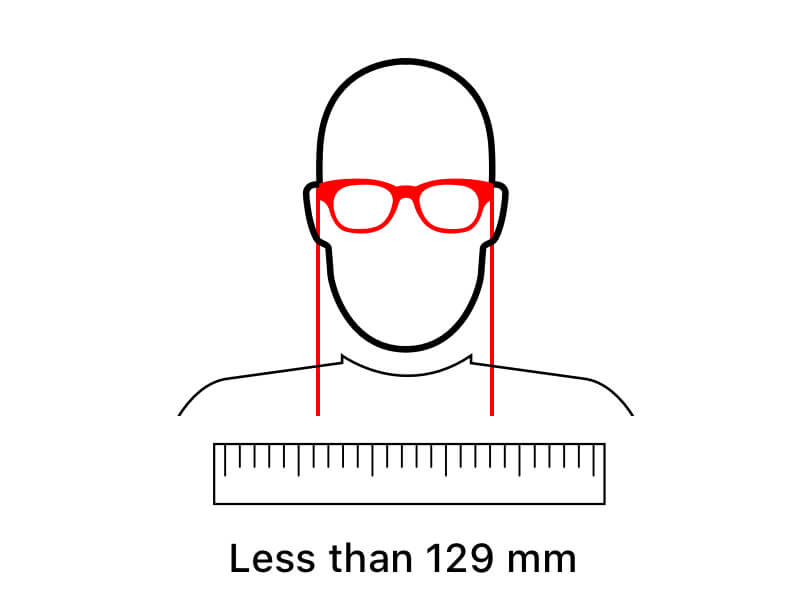 For small or narrow faces the ideal frame width would be less than 129 mm.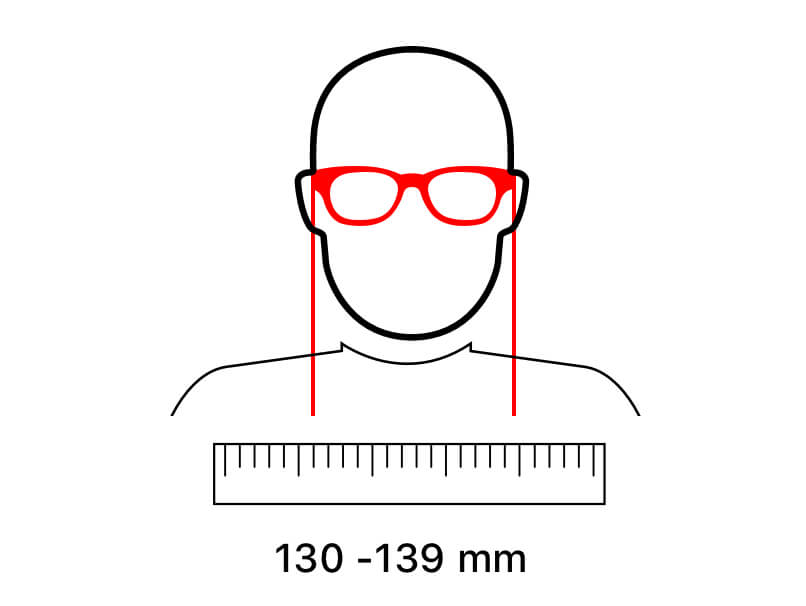 Medium size faces can wear frame widths between 130 mm to 139 mm.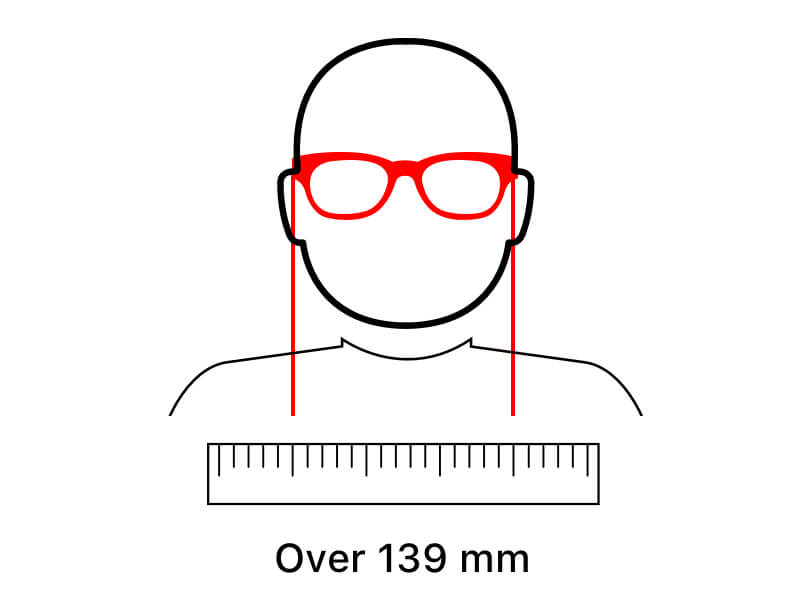 Wider faces will find a frame width over 139 mm will fit them perfectly.
Once you have the measurements for your frame dimensions visit our shop.
How can I tell the size of your frames?
The size of each of our frames can be found within the product description.
The frames I want are out of stock. What do I do?
We do our best to keep our frames well-stocked but sometimes it's difficult to keep up with the demand, especially on some of our well-loved styles. We recommend that you reserve your order so you are not disappointed. Please contact us to reserve your frames.